A Cosmic Journey to The Unknown
Review 1
Reviewed By Romuald Dzemo, Review Rating: 5 Stars – Congratulations on your 5-star review!
A Cosmic Journey to the Unknown by Odete Bigote is a fascinating book that asks pertinent religious and philosophical questions. It offers possibilities that we are afraid to consider because we are taught to cling to our familiar landscapes and only dwell on things we can verify scientifically. But this author shows that there is more to life than what we have been made to believe, that there are other dimensions to our existence and that there is a powerful interconnection between our life and the universe. The book opens with a somewhat startling realization: "It is obvious that the thought of separation creates fear and plays a major role in our lives." It is curious that most of the explanations we have created to justify our existence have been an attempt at refusing to look beyond what we already know; an attempt to justify our fear of death and the uncertainty of what happens afterward. The author teaches readers to face this existential fear and to want to truly know.
Odete Bigote shares her knowledge with readers, letting them learn from her journey of self-discovery, her quest for answers, and the surprising truths she discovered along the way. Her idea of the fear of separation struck a powerful chord in me and I found myself wondering: Why the fear? In this book, the author demonstrates that our fear of ultimate extinction constitutes one of the greatest obstacles in acquiring real knowledge. It is a fear that makes us unable to grasp why were are here and to connect to our ultimate destiny. The writing is insightful and filled with suggestions on how to consider new horizons in life. The depth of thought coupled with existential questions make this book one that provokes a silent revolution in readers and a powerful shift in perspective.
The author captures the essence of this book in the following words: "Humanity must conclude that our history is the history of repetition. The reader will find out about many aspects of our lives, past, present, and future: before the existence of our planet, before our formation, as well as the reason for our presence on earth and where we are heading." A Cosmic Journey to the Unknown is thought-provoking, revelatory, and filled with new paths.
Review 2
You Can Remember Love: Contemplations on Science and Spirituality
Review 1
Review 2
Review 3
Review 4
Review 5
Review 6
Review 1
"You Can Remember Love is filled with practical spiritual nuggets that help bring Light into any darkness."
  Gerald G. Jampolsky, M.D.
  Author, Love is Letting Go of Fear
Review 2
Review 3
Review 4
Review 5
Review 6
Before the World Began: The Point of the Encounter of Love and Science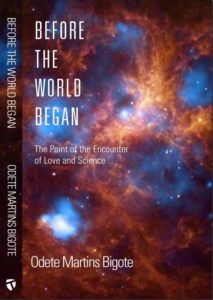 Review 1
Review 2
Review 3
Review 4
Review 5
Review 6
Review 7
Review 1
"Before the World Began is a succinct and heartfelt book written by a woman
who has lived it's message."
  Steven Corsano
Review 2
Review 3
Review 4
Review 5
Review 6
Review 7